Today I was quite surprised, seeing Polygon MATIC crypto. The crypto up 145% in the week, and the daily increase reached 32%. This is a tremendous increase because some other cryptos even though they rose but were still below 32%.
But what is this Polygon Matic crypto, is it good for future investment? For information at the time of writing, Polygon Marketcap has reached 11 billion USD. Matic tokens that have been circulating have reached 61% of the maximum supply of 10 billion.
Best TenkoFX broker. Good forex Brokers with positive feedback of reviews from users and are regulated by IFSC Belize
Open an account or try a Demo account.
Polygon Matic crypto explained
Polygon is similar to Polkadot, Cosmos, Avalanche, etc. It works on the Ethereum network which is a protocol with a framework for building, connecting with the Ethereum network.
This provides a solution to scaling problems on the Ehtereum network and supports the multi-chain Ethereum ecosystem.
Polygon, which was previously a Matic network, is like an internet blockchain that effectively transforms Ethereum into a full-fledged multi-chain system. Matic network was built in 2017 which has a vision of building infrastructure on the Ethereum network.
Polygon offers a solution to problems on the Ethereum network which has limitations on low throughput, poor user experience (UX), and no sovereignty.
Polygon technology offers three advantages over Polkadot, Cosmos, Avalanche. It can take full advantage of the Ethereum network effect, more secure, strong, and open.
What is Matic polygon crypto?
MATIC is the native token used on the MATIC network and is still used when the network expands to become Polygon technology.
The MATIC token plays an important role in networking for transaction fees and participates in the proof-of-stake consensus. It is to secure the system and enabling governance.
The Matic token can be used to participate in network governance by voting on Polygon Improvement Proposals (PIPs), contribute to safety through staking, and pay gas fees.
Where to buy MATIC?
MATIC tokens are available on several major exchanges so they can be traded with other crypto pairs, you can get for example on Binance, Huobi Global, FTX, CoinTiger, and VCC Exchange, Coinbase. etc.
How to buy?
To buy MATIC tokens you must first register on an exchange at one of the exchanges that provide MATIC tokens. For example on Binance, you can buy using a credit card, before you can transact safely you have to verify your account by complying with KYC and AML.
After the deposit, you can buy crypto and choose MATIC by writing the amount you want to buy.
How Polygon Matic crypto works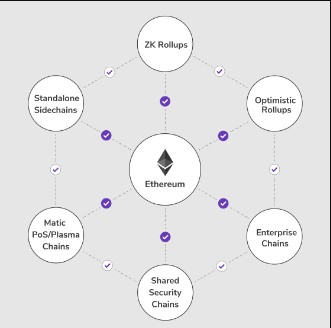 The Polygon architecture is best defined as a four-layered system consisting of the Ethereum layer, security layer, Polygon network layer, and execution layer.
Security layer
The security layer is the first layer that runs side by side with the Ethereum network. It provides a validator as a service role that allows the chain to benefit from an additional layer of security.
Polygon network
It is a blockchain network ecosystem built on Polygon. Each has its own community and is responsible for handling local consensus and producing blocks.
Execution layer
The execution layer is an implementation of Polygon's Ethereum Virtual Machine (EVM) that is used to run smart contracts.
Polygon combines two ways of working, between the Plasma Framework and the proof-of-stake blockchain architecture.
The plasma framework was used when it was still a Matic network and will continue to be developed by incorporating the proof of stake blockchain architecture.
The main component of polygons is the SDK, a modular, which can flexibly support solutions for Secured chains (aka Layer 2 chains) and Stand-alone chains (aka Sidechains).
Using Polygon, the developer can create something that required types such as create optimistic rollup chains, ZK rollup chains, stand-alone chains, and others.
How to mine polygon crypto
The Polygon network uses proof of stake, which is how mining works using a validator who has the responsibility of staking the network token and running the validator node to join the system as a Validator.
The validator has responsibility in Matic governance
Validators will also be rewarded for successfully confirming a transaction. But the opposite can be will be penalized/deducted for violating the rules, for example, double signing, validator downtime, etc.
All members have the opportunity to become a validator to confirm transactions on the blockchain. To have the qualifications to become a validator by running a full node, and locking up the Matic token to make sure you are a Good Participation Validator.
The process of selecting validators is through an on-chain auction which is carried out at regular intervals, and those selected will function as producer and verifier.
When a new block is validated it will be updated in the main chain, in this case, the Ethereum main chain, which issues a reward to the validator depending on the amount staked.
Delegator
Delegator refers to the participant who does not want to run the validator node itself, he is only staking the validator by paying a small fee, which can strengthen the network of the selected validator.
Delegators can also receive a reward of half the validator reward on the exchange.
What is polygon crypto used for?
In the real world, Polygon crypto is used for several purposes, including payments, lending, and games.
Payment
Polygon crypto functions as an almost instant payment using a dedicated application programming interface (API) and software development kit (SDK) integration.
Instant payments of all types of crypto can be made for dApps, merchants, and users. The payment system is carried out in three different ways:
First, Payment with Ethereum (ETH) and ERC-20 token.
Cross-chain multi-asset token payments using atomic swaps.
And fiat-based payments using fiat liquidity providers.
Lending
Polygon also functions as a lending platform through a partnership with the Dharma Protocol. Leading Lending Protocol Aave has more than $ 1 billion of liquidity locked in the Polygon marketplace with more than 8000 users.
Games
Now there are some games that already use Polygon. Polygon's Layer-2 sidechain scaling promises blockchain-based games to have faster and better performance. Examples of uses for NFT games and Dapps include Aavegotchi, Neon District, Zed Run, and Cometh.
Polygon crypto founder

Polygon crypto was discovered by three Indians, Jaynti Kanani, Sandeep Nailwal, and Anurag Arjun. The platform has a large number of team members who are all from India. The total number of teams is 32 which play different roles in each division.
Jaynti Kanani a co-founder & CEO, Experience as a full-stack developer and blockchain engineer. Contribute to Web3, Plasma, WalletConnect. Previously, he was a data scientist at Housing.com.
Sandeep Nailwal Co-founder & COO is a Blockchain programmer and entrepreneur. has experience as CEO of Scopeweaver, and CTO of the Welspun Group.
Anurag Arjun, Co-founder & CPO. Previously AVP IRIS Business. Served at SNL Financial, Dexter Consultancy, and Cognizant Technologies.
When India reported an increase in COvid-19 cases, founder Sandeep Nailwal reportedly raised $ 3 billion in aid.
Polygon crypto-investment
The increase in the use of the polygon platform has driven the MATIC token price to an increase of more than 600% since the beginning of 2021. Although it is not the largest one on the Ethereum blockchain network. And the largest one is still held by the Binance Smart Chain.
If the Polygon network can maintain an increase in platform usage, it is not impossible to overtake and become the largest in space.
Some that offer Polygon and have an increasing impact include AAVE, Curve Finance and mStable
Is polygon crypto a good investment?
Since the beginning of May 2021, Polygon's increase in value has been tremendous, from around $ 0.7 to now $ 1.65 in just under a month. This suggests that the enthusiasm for the ownership of Polygon crypto is increasing rapidly.
But is this a good investment? In the end, it will depend on the market, and how the Polygon network team can keep the platform secure and contribute greatly to various Dapp projects on the Ethereum network. It has to compete with similar platforms, Polkadot, Cosmos, Avalanche, and so on.
The Polygon crypto investment is a big piece of speculation which could be good but may not be great.
Where can you buy polygon crypto?
Polygon crypto has seen a fairly fast increase, even though it is not yet in the top 10 in the Coinmarketcap ranking. However, listing Polygon crypto already on a popular global exchange.
Investors can buy Matic tokens on Binance, BiONE, ZebPay, Coinbase Pro, Huobi Global, UniSwap, WhiteBIT, and Hotbit exchanges.
You don't have to use all exchanges. But you can choose one that is trusted and has a safe and fast process. However, if you use multiple exchanges, it might be better if you record each account in a separate notebook so that you don't forget your account the next time you want to log in.
Does polygon crypto have a future?
All platforms similar to Polygon have a future, it will also depend on the developer, how they work. Because after all the competition in cryptocurrency will be tighter because each platform offers a solution to a problem.
This is about how the Team can maintain network quality and user security, the more the team works well and maintains public safety and trust, the future of Polygon may be good.
Following the feed to get updated information through the blog, the Reddit/r/maticnetwork community, might be able to help get information and conclude the future of Polygon crypto.
Polygon crypto price prediction
The soaring price increase for MATIC crypto has exceeded 600%, but today the increase is still continuing, where the price is up 2% on a daily basis.
Some analyzes and predictions from forecasting sites provide varying values, but overall the average prediction predicts the price of Polygon crypto will rise higher.
Digitalcoin Polygon (Matic) price prediction
Digitalcoinprice predicts Matic's token price could reach $ 2.26 by the end of 2021. Then price prediction to rise to $ 2.76 by the end of 2022, $ 3.3 by the end of 2023, $ 4.08 in 2024, $ 4.72 in 2025, $ 5.52 in 2026, $ 6.23 in 2027, and $ 6.98 in 2028.
Wallet investor Polygon (Matic) price prediction
The investor wallet prediction for Matic's price is that the price may reach 3,491 USD in the next year, from the current price of $ 1.85, while the long-term prediction, Matic's price will reach $ 13,639 by 2026.
My own prediction
Through the analysis method based on the wave theory, that the price will not always go up without correction. Currently, the price is $ 1.85, and the price is already very high. In the prediction that the price may fall again below $ 1.6 before going higher.
The price is likely to reach a high in the range of $ 2 in 2021. Where when investors are entering the overbought zone it will make prices stagnate, maybe even a little drop.
How high can polygon crypto go
Even though the all-time high Matic price hasn't hit $ 2. The incredible increase from just $ 0.6 has hit the $ 1,890 high on May 15, 2021.
Even though the current price has formed a new high. The forecast for the price to continue rising is still possible to reach a new high. With an initial target of reaching $ 2.
This is just a start where the price is still possible to continue to rise in the next few decades. Perhaps reaching $ 13, as predicted by one of the forecasting sites.
Will the polygon network remain to exist in 2040?
Although this question is quite silly, crypto investors need to consider the age of the site. Read the development of the network, whether it is likely to change or stay with the current domain.
Polygon Technology uses a unique domain name and is not like a domain name ending in dot com or dot org. But using dot technology. It is likely that Polygon will still exist in the next few decades.
Therefore, storing important information such as Matic wallet private keys. And other important data must be stored securely and must not be lost.
Conclusion
Crypto investing is a risky investment, similar to forex trading. An investor may decrease the value of his assets due to a decrease in the tokens he holds. Or even worst lose his funds.
Therefore, it is strongly emphasizing always be discipline. Especially in terms of investing in risky financial products. Including crypto and forex.
Just spent the funds that are ready to lose is the golden rule of investing in high-risk businesses. Such as forex, HYIP, and CFD trading.
Ready to start forex or crypto trading? Open an account or try a Demo account.
You may interested

Bitcoin Vault, is Bitcoin vault mining profitable?

Central Bank Digital Currencies (CBDC)